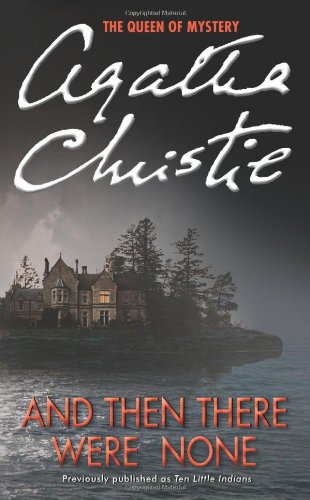 Title: And Then There Were None
Author: Agatha Christie
Genre: Mystery
Pages: 300
Rating: ★★★★
Buy on The Book Depository
Synopsis:
"Ten . . ."
Ten strangers are lured to an isolated island mansion off the Devon coast by a mysterious "U.N. Owen."
"Nine . . ."
At dinner a recorded message accuses each of them in turn of having a guilty secret, and by the end of the night one of the guests is dead.
"Eight . . ."
Stranded by a violent storm, and haunted by a nursery rhyme counting down one by one . . . one by one they begin to die.
"Seven . . ."
Who among them is the killer and will any of them survive?
Review:
In one word: clever. I've never read a book by Agatha Christie before but I'm glad I decided to change that! I see people talking about her books every now and then and I can now understand why.
Can you imagine being invited to a getaway on a famous island, only to watch your companions die one by one? I'd be terrified! And I was. Thankfully I was just reading it. Phew. The more people murdered, the more paranoid everyone became. The remaining characters were suspicious of each other and you felt it right with them. I also found the whole thing creepy. There was something about the 'countdown' that just gave me shivers because it felt so wrong and twisted.
I love how Agatha Christie kept this novel quick and easy to read. No parts dragged on and the right amount of back story was provided for each character. A well executed murder mystery in 300 pages is impressive in my books.
This mystery classic is one that will keep you on your toes. It will keep you guessing and doubting yourself and if you get really into it, you'll read in constant apprehension. The ending was my favourite part because I had a 'whoa!' moment when I found out how the murders were orchestrated.
If you're new to murder mysteries like I am, I highly recommend starting with And Then There Were None. It's a brilliant introduction to this genre that will keep you wanting more.
—
I had the pleasure of reading this book with my friends Steph (BookPlaits) and Alyssa (MoreThanYaBooks)!