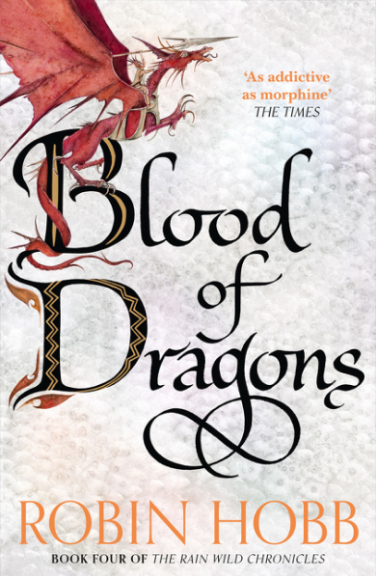 Author: Robin Hobb
Series: Rain Wild Chronicles #4
Genre: Fantasy, Adult Fiction
Format: Paperback
Pages: 481
Synopsis:
The dragons and their dedicated band of keepers have at last found the lost city of Kelsingra. The magical creatures have learned to use their wings and are growing into their regal inheritance. Their humans, too, are changing. As the mystical bonds with their dragons deepen, Thymara, Tats, Rapskal, and even Cedric, the unlikeliest of keepers, have begun transforming into beautiful Elderlings raked with exquisite features that complement and reflect the dragons they serve.
But while the humans have scoured the empty streets and enormous buildings of Kelsongra, they cannot find the mythical silver wells the dragons need to stay health and survive. With enemies encroaching, the keepers must risk "memory walking"- immersing themselves in the dangerously addictive memories of long-deceased Elderlings – to uncover clues necessary to their survival.
And time is of the essence, for the legendary Tintaglia, long feared dead, has returned, wounded in a battle with humans hunting dragon blood and scales. She is weakening and only the hidden silver can revive her. If Tintaglia dies, so, too, will the ancient memories she carries – a devastating loss that will ensure the dragons' extinction.
---
My Thoughts:
My favourite book in the series, I couldn't put down Blood of Dragons once I started it! I'm once again in awe of Hobb's writing because of how she deals with multiple characters, invests enough in their storylines to make you care about them, and still manage to give a satisfying ending to their journeys.
As much as I enjoyed the book I did feel parts of it were rushed. While I liked how certain characters met their end, it felt too quick and easy. There was also a build up for a war that didn't last more than a few pages and a much needed rescue that fell short of what it could have been.
Another thing I'm not a big fan of is the romance in this series. It's not that it's cheesy, unrealistic, or overdramatic, but I do wonder if it was necessary for every character to pair off with someone else. Some couples I rooted for but some I would have been fine without.
What I love about this series is how it opened up possibilities for future books. I love Hobb, so the more she writes, the better for me. The Rain Wild Chronicles not only gave us a look into business and trouble in the Rain Wilds, it also paved the way to new characters and future alliances.
While this series is not one of Hobb's strongest, I'm glad I read it. It was better than I expected and once again made The Realm of the Elderlings a richer world in my books. Please don't do yourself a disservice and read Hobb's books out of order! The best order is still Farseer, Liveship Traders, Tawny Man, Rain Wild Chronicles, and The Fitz and the Fool. It's hard to believe I'm almost caught up to the latest series – I'm both nervous and excited!
Rating: ★★★★