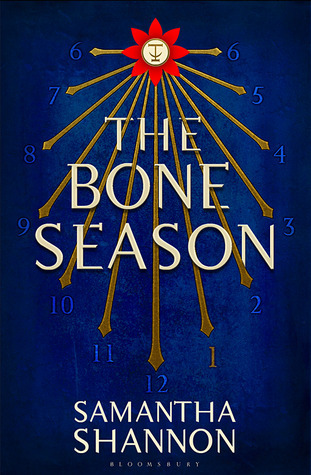 The Bone Season
The Bone Season #1
Fantasy, Dystopia, Science Fiction, Paranormal Fiction
Bloomsbury Publishing USA
August 20, 2013
Hardcover
466
Library
The year is 2059. Nineteen-year-old Paige Mahoney is working in the criminal underworld of Scion London, based at Seven Dials, employed by a man named Jaxon Hall. Her job: to scout for information by breaking into people's minds. For Paige is a dreamwalker, a clairvoyant and, in the world of Scion, she commits treason simply by breathing.
It is raining the day her life changes for ever. Attacked, drugged and kidnapped, Paige is transported to Oxford – a city kept secret for two hundred years, controlled by a powerful, otherworldly race. Paige is assigned to Warden, a Rephaite with mysterious motives. He is her master. Her trainer. Her natural enemy. But if Paige wants to regain her freedom she must allow herself to be nurtured in this prison where she is meant to die.
The Bone Season introduces a compelling heroine and also introduces an extraordinary young writer, with huge ambition and a teeming imagination. Samantha Shannon has created a bold new reality in this riveting debut.


I really enjoyed The Bone Season. After recently being sucked into a hyped book that miserably failed, I was skeptical about this one. Fortunately, the world and the characters were more engaging than I expected.
My favourite thing about this book is that the world building and the 'magic system' is nothing like I've read before. However, the beginning stages of this book provides a lot of info dumps that were honestly quite confusing and hard to follow. I can sort of tell you what some of the characters are able to do but I also can't explain it well. It made enough sense to follow but I basically had to hope it all sticks and becomes clear to me in the end. I didn't mind it as much though, because the story itself was interesting.
I was actually thrown off by how old Paige, the main character, is. She's introduced to us as 19 years old but she felt more like a 20-something to me. This book also felt part adult fiction, part YA to me and I'm still not sure if it fits one more than the other. The narration didn't feel YA but it also reminded me of certain YA books (mainly Divergent and Twilight) because of a few things that happened. This wasn't necessarily bad but I guess I expected the book to be unique throughout so these similarities felt a bit disappointing.
I was definitely a fan of the pacing of this book. It kept me engaged with the mystery, suspense, and action. The backstory wasn't as interesting but I still found the book hard to put down.
I also loved the fact that there was barely any romance! That was so refreshing to me and while it was hinted at in the beginning, it was a slow build up that lasted months (THANK YOU). My only gripe about this is that when something did happen near the end, it felt too sudden or impulsive. It could be because of one detail but I guess I won't know til I read more of the series.
I'm also a little bit torn because while I liked the MC's development, I didn't really care about the characters. I could see which ones were meant to be liked and disliked and I guess the predictability sort of underwhelmed me. I may also just be getting tired of the Chosen One trope because some things were just too convenient for Paige.
Overall I liked this book and I'm curious enough to see where it goes. I'm wary of it being a seven book series though, because I don't want to see it drag just for the sake of having that many.