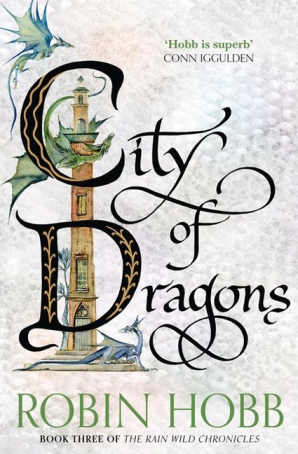 Author: Robin Hobb
Series: Rain Wild Chronicles #3
Genre: Fantasy, Adult Fiction
Format: Paperback
Pages: 432
Synopsis:
The secret is out.
The Tarman expedition has at last found Kelsingra, a city filled with ancient treasures. Rumours of the city have floated down the Rain Wild River. Adventurers, pirates and fortune hunters will soon be coming to pillage what they can. Among them, Hest Finbok, determined to claim back his errant wife, Alise.
Meanwhile, Selden Vestrit finds himself a prisoner of the ailing Duke of Chalced, who believes the 'dragon man's' flesh and blood may cure him.
Where is Tintaglia, greatest of dragons, when there is need of her? She holds the memories that will unlock the mysteries of Kelsingra, and the power to defend it, and dragonkind. Without her, all may be lost.
My Thoughts:
The shortest among the books in this series, City of Dragons expanded what we knew of Kelsingra, the Rain Wild Council, Chalced, and other characters of interest.
While it wasn't the most exciting of books when it came to plot and action, it showcased Hobb's skill in worldbuilding and politics. I loved exploring Kelsingra and gathering all we could learn about it, but I also appreciated reading about what was going on at the Rain Wilds, Bingtown, and Chalced. Hobb shed light on people's motives and it made the whole story much more interesting. I was shocked, saddened, repulsed, and disturbed and I couldn't wait to see what Hobb had in store for her characters.
City of Dragons was more of a transitional piece, building the way for what's to come in the last book. It was similar to Dragon Keeper which set things up before finishing just when you expected things to move along. While it was still enjoyable, I'm eager to read Blood of Dragons to see how Hobb closes this series.
Rating: ★★★★