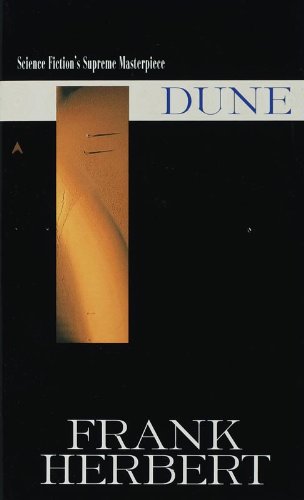 Title: Dune
Author: Frank Herbert
Genre: Science Fiction
Pages: 535
Rating: ★★★½
Synopsis:
Here is the novel that will be forever considered a triumph of the imagination. Set on the desert planet Arrakis, Dune is the story of the boy Paul Atreides, who would become the mysterious man known as Muad'Dib. He would avenge the traitorous plot against his noble family–and would bring to fruition humankind's most ancient and unattainable dream.
A stunning blend of adventure and mysticism, environmentalism and politics, Dune won the first Nebula Award, shared the Hugo Award, and formed the basis of what it undoubtedly the grandest epic in science fiction.
My Thoughts:
Reading Dune felt like running a marathon I didn't train for and it's both a relief and a surprise to get to the finish line. Known as a masterpiece among sci-fi books (and having friends who loved this book) I had high expectations for Dune. Sci-fi is not a genre I typically read, so Dune was the perfect pick for the Colour Me Read Challenge in August.
What I loved about Dune was the fact that I didn't feel like I was reading science fiction. There were definitely elements of that genre in the book, but when it came to my experience, I felt like I was reading a high fantasy novel. Dune was also easy to read, so that was an added bonus.
The worldbuilding was probably my favourite part of the story. The desert planet Arrakis, the Fremen, the Bene Gesserit teachings, the sandworms and the spice, were all very fascinating. I was able to truly appreciate the level of thought and detail Herbert put into this world and that's really the main reason I gave Dune a higher rating.
As much as I loved Dune for its worldbuilding, I also had my struggles. The characters' names were difficult to keep track of, specially in the beginning. A number of terms were also brought up and I got lost in them, trying to remember who was who and what was what. I almost wish I drew some sort of diagram or wrote a list.
I also didn't feel connected to the characters and this was so sad for me. As someone who loves character depth and character development, Dune didn't have enough of this to really engage me.
Dune is slow in pace and I don't recommend it to readers who prefer faster-paced books. This was part of my struggle. The book went through multiple situations that neared a climax and never got to it. It skipped action scenes that I anticipated and only had the aftermath to offer.
Dune is also heavy with politics. While the politics initially intrigued me, I found the novelty of it wore off in the last half of the book. Thankfully, things started picking up in Book II and III and I was able to appreciate the story a lot better.
I can see why Dune is called a masterpiece by many and I wish it felt like that for me. It certainly has its merits, but it also has a tendency to lose the interest of its audience.
---
I read this book with Erin from @booksinthewild on Instagram! It was a lot of fun discussing different parts of the book as we went along, and had I read Dune by myself, I probably would have given up on it. Here's what Erin thought of Dune:
I enjoy science fiction, so I was really looking forward to finally reading this book. Imagine my surprise when I realized this book heralded as a classic sci-fi novel was more like a fantasy burger with a side of sci-fi. Now that's not to say I didn't enjoy it. Because I really did. I recommend this book, but with a warning. The first couple chapters are brutal. Almost unreadable. If I hadn't been buddy reading this book I would have put it down and never picked it up again. Thankfully, however, I did push my way through the excruciating beginning and discovered a beautifully rich and detailed adventure. It was well worth it.
Check out the rest of her review on her website, quillable.ca!