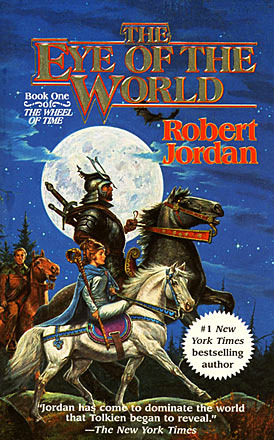 Author: Robert Jordan
Series: Wheel of Time #1
Genre: Fantasy, Adult Fiction
Format: Paperback
Pages: 814
Book Depository
Synopsis: 
The Wheel of Time turns and Ages come and go, leaving memories that become legend. Legend fades to myth, and even myth is long forgotten when the Age that gave it birth returns again. In the Third Age, and Age of Prophecy, the World and Time themselves hang in the balance. What was, what will be, and what is, may yet fall under the Shadow.
My Thoughts:
The Wheel of Time series is known as one of the most daunting fantasy series to sink your teeth into. It consists of 14 books with each one well over 500 pages. As someone who loves reading fantasy, it was more the commitment vs. the page count that intimidated me.
I've read mixed reviews on the Eye of the World and a few have said it has similarities with J. R. R. Tolkien's the Lord of the Rings. Having read and loved LOTR as a teen, I was almost confident I'd love TEOTW. So with an open mind and low expectations, there was just no way I wasn't going to like this book.
100 pages… 200… 300…
When you read a book and start asking yourself 'Is it over yet?' repeatedly, that's a bad sign. Worldbuilding is one of my favourite things about fantasy books so I'm all for reading it at the author's pace. That being said, I could not get into this world! The more I read, the more it sounded like a LOTR knock-off. It was predictable with flat characters who were barely interesting. TEOTW was also littered with terms you'll get lost in, so I almost recommend writing them down and keeping track of them.
Everything that happened in this book could have been told in half the amount of pages. It's unfortunate when you're left wanting so much more after 814 pages. It's worst when after reading that much, you didn't feel like you read anything original, different, or exciting (well, maybe the last page).
Rating: ★★