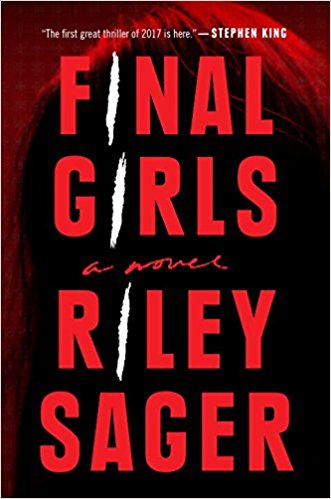 Final Girls
Fiction
Penguin
2017
Hardcover
352
Dutton Books
Ten years ago, college student Quincy Carpenter went on vacation with five friends and came back alone, the only survivor of a horror movie-scale massacre. In an instant, she became a member of a club no one wants to belong to--a group of similar survivors known in the press as the Final Girls. Lisa, who lost nine sorority sisters to a college dropout's knife; Sam, who went up against the Sack Man during her shift at the Nightlight Inn; and now Quincy, who ran bleeding through the woods to escape Pine Cottage and the man she refers to only as Him. The three girls are all attempting to put their nightmares behind them, and, with that, one another. Despite the media's attempts, they never meet. Now, Quincy is doing well--maybe even great, thanks to her Xanax prescription. She has a caring almost-fiancé, Jeff; a popular baking blog; a beautiful apartment; and a therapeutic presence in Coop, the police officer who saved her life all those years ago. Her memory won't even allow her to recall the events of that night; the past is in the past. That is, until Lisa, the first Final Girl, is found dead in her bathtub, wrists slit, and Sam, the second, appears on Quincy's doorstep. Blowing through Quincy's life like a whirlwind, Sam seems intent on making Quincy relive the past, with increasingly dire consequences, all of which makes Quincy question why Sam is really seeking her out. And when new details about Lisa's death come to light, Quincy's life becomes a race against time as she tries to unravel Sam's truths from her lies, evade the police and hungry reporters, and, most crucially, remember what really happened at Pine Cottage, before what was started ten years ago is finished.

I tend to avoid Thrillers because I always think I'm too much of a wimp to read them. And then I do read them, end up enjoying them, and roll my eyes at myself for not reading them sooner. Had it not been for Dutton Books sending me a copy of Final Girls, I probably would have added it to my TBR and left it there to collect imaginary virtual dust.
I'm so glad I read it though because I haven't flown through a book that quickly in a long time!
I enjoyed reading about the main character, Quincy, and how her life has been after what she went through. I was intrigued by the idea of a Final Girl which was a term coined for the last surviving girl in horror movies. In this book, there were three and while the story focuses on Quincy, we also got to read about two other Final Girls.
It's hard to say much without spoiling anything but I really liked how Sager wrote her characters. They were interesting yet 'normal' enough to be relatable while being suspicious and unreliable at the same time. I was hooked by every new piece of information that could lead me to guess the missing pieces in Quincy's story but as hard as I tried to figure out the plot twist, I was off until just before the reveal. Sager put enough misdirection in the book that it challenged any assumptions I had, which was what made it fun!
The only thing I didn't like about the book was the underwhelming feeling I got with the reveal. The reason behind the person's actions was quite… anticlimactic and I just expected a bit more punch to come along with it. I also thought the ending, particularly the last page, was  a little cheesy/out of the character. I could see the character making the same decision in the future but not at the time she did. It just felt a bit too clean and convenient.
Overall, Final Girls was a successful debut novel by Riley Sager and I'll be on the look out for her future releases. I recently discovered Sager is a pseudonym so I'm also very curious about what else she writes under.