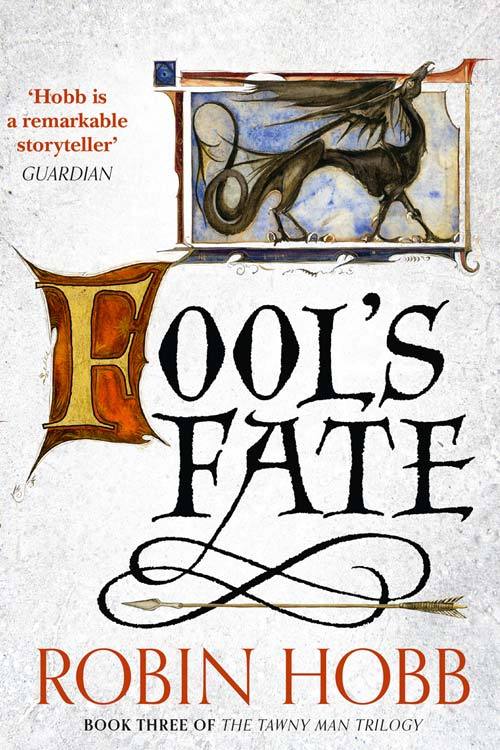 Title: Fool's Fate
Author: Robin Hobb
Genre: Fantasy
Series: Tawny Man #3
Pages: 805
Rating: ★★★★★
Buy on The Book Depository
Synopsis:
Kingdoms will stand or fall on the beat of a dragon's wings, or a Fool's heart.
Prince Dutiful has been charged with a quest to the Outisland to take the head of the black dragon Icefyre. Only then will his betrothed marry him and cement the alliance between their warring kingdoms.
But is Icefyre just a legend? Or does he truly slumber beneath the glaciers? Fitz has prevented his friend the Fool from accompanying them the Fool has foreseen his own death if he ever sets foot on the isle of the black dragon. But as their ship draws in towards Aslevjal a lone figure awaits them.
My Thoughts:
"Home is people. Not a place. If you go back there after the people are gone, then all you can see is what is not there any more."
Fool's Fate was everything I could have wanted and more. My friends who've read this book before me always told me to keep tissues handy, because FEELS they said, and they were right. The book isn't just a satisfying finish to the Tawny Man trilogy, but it's also an answering of questions from the Farseer and Liveship Traders trilogies.
Once again, Hobb continues to amaze me. If you've read the Realm of the Elderlings books in order, you can probably appreciate the amount of work, detail, and planning Hobb has put into her writing. From characters we've known in the Farseer trilogy, to the ones in Liveship Traders, and now new ones in the Tawny Man, Hobb still manages to write them in a way that makes us care. Some characters I hold dear to my heart went through a lot of ups and downs in this book and their joy and pain were like my own.
When it comes to character development, Hobb remains a master. Just as Fitz is a Catalyst and each choice he makes leads to a ripple of change, I feel as if Hobb plays a similar role in the background: with each nudge of action or event, a character gradually develops in a manner that's realistic, convincing, and incredibly human. As a reader, that is one thing I always look for and Hobb's unparalleled skill in this area is something I can't praise enough.
There is so much Hobb takes on in this complex conclusion to her trilogy. There are issues she brings up and deals with (e.g. gender equality, differing customs, deformities, politics, etc.), storylines she lays out, and questions she addresses while tying loose ends and planting potential plot lines she wants to explore in the future.
Fool's Fate deserves more stars than I can give it. It's also a great book to end with if you want to take a break from this world (because some of us need to recuperate, y'know). I highly recommend this book. I've said that about many books in the past, but if I had to rank them all, Fool's Fate would take the top spot. For the best experience, I do recommend reading Hobb's books in order: Farseer, Liveship Traders, and Tawny Man. Happy reading!