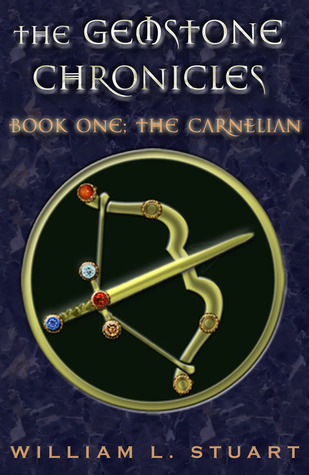 Author: William L. Stuart
Series: The Gemstone Chronicles #1
Genre: Fantasy, Middle Grade Fiction
Format: Paperback
Pages: 297
Synopsis: 
When Aidan and Maggie find a fairy cross while rock-hunting with their grandfather, it's just an oddity. But when they discover there is an elf imprisoned in the stone and set him free, they and their grandparents, Nana and Beebop, are attacked by Dark Elves and forced to flee to the magical world of Celahir.
In Celahir, Findecano – the elf the children freed from the fairy cross – leads them on a quest to recover gemstones stolen from the Elven Bow by the Dark Elves. Without the restoration of the gemstones to the Elven Bow, the balance between good and evil in Celahir – and the human world – could tip toward evil.
I received a free copy of this book from the author in exchange for an honest review.
My Thoughts:
The Carnelian is a fun, family-centric story about two grandparents (Nana and Beebop) going on an unexpected adventure with Aidan and Maggie, their grandchildren. Reading this book was kind of like how I imagine things would be if I one day discover magic existed. While spending summer vacation with their grandparents, certain circumstances lead Aidan and Maggie to Celahir, a world with elves, trolls, kelpies, and more. Finding themselves suddenly involved with trouble from opposing sides, the main characters learn magic and escape their pursuers while trying to find their way home.
My favourite things about this book were exploring Celahir and seeing the different creatures that inhabited it. I found the gemstones quite interesting too, specially when it came to powers associated with each one. The carnelian is specifically known to impart courage and that was evident in the story as the characters faced obstacles and challenges during their adventure.
As much as I liked the story, there were a few things that dampened my enjoyment. The first book of any series is always at risk for having many info dumps and The Carnelian was no exception. I sometimes found these info dumps too long and would have preferred it if some of the information wer discovered by the characters during their quest. The Carnelian also had moments of repetitiveness when characters relayed previous events to others.
Another thing I had difficulty with was connecting with the characters. Although I could sympathize with their struggles, I didn't feel the emotions they expressed. Some of the dialogue felt flat and pulled me away from the story but I do feel this can improve by better balancing descriptions relating to events vs ones relating to the characters. If a little more time were spent on building up a character's thoughts/feelings about a certain character/event, the reader may be more likely to feel the gravity of their emotions later.
Overall, I found The Carnelian to be an entertaining read. There is a lot of potential in this story as more of the gemstones are discovered and our characters develop. I can also see this book working well as a bedtime story with kids anticipating how the story progresses with each chapter.
Rating: ★★★