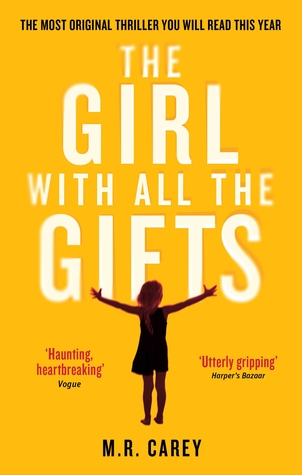 Title: The Girl with All the Gifts
Author: M. R. Carey
Genres: Thriller
Pages: 460
Rating: ★★★★1/2
Synopsis:
Melanie is a very special girl. Dr. Caldwell calls her "our little genius."
Every morning, Melanie waits in her cell to be collected for class. When they come for her, Sergeant Parks keeps his gun pointing at her while two of his people strap her into the wheelchair. She thinks they don't like her. She jokes that she won't bite, but they don't laugh.
Melanie loves school. She loves learning about spelling and sums and the world outside the classroom and the children's cells. She tells her favorite teacher all the things she'll do when she grows up. Melanie doesn't know why this makes Miss Justineau look sad.
The Girl with All the Gifts is a sensational thriller, perfect for fans of Stephen King, Justin Cronin, and Neil Gaiman.
---
My Thoughts:
I love good standalones. You'll usually find me raving about them because they're so rare. A well-written standalone typically becomes a favourite on my shelf and I'm proud to say The Girl with All the Gifts is now one of them!
TGWATG is best experienced when you know nothing about it coming in. You can read the synopsis but DON'T read reviews until you're finished. What I love about this book is discovering the world and its secrets through the eyes of the main character Melanie. But it's not just that. Melanie learns about herself and her place in the world with the reader. If you've read Flowers for Algernon, you'll know what I mean. This way of writing worked so well for Melanie's growth and character development that I couldn't help but love her.
TGWATG focuses on Melanie and four other characters. Because of this, some chapters are told from their perspectives and I like how that added more to the worldbuilding of the story. Each character had a distinct voice and specific things motivating them to act the way they do, and the best part was that I could relate to them and understand where they were coming from.
This book was a page-turner with the right amount of break in between. It had action, facts, internal struggles, obstacles, and heartbreaking moments. I do wish Carey expanded on the ending a little bit, or took more time to get there. Other than that TGWATG was a very satisfying read and it's one book I'll be recommending from now on.
TGWATG was my second pick for October's Colour Me Read Challenge. It was highly recommended to me by a few friends and I'm so glad I read it. Don't let the 'thriller' or 'horror' labels scare you. This book has so much more to offer and for someone who's never read horror, I'm surprised to see TGWATG under that category. I was very hesitant to read books for this month's challenge but I've enjoyed everything I've read so far. Here's to more discoveries!