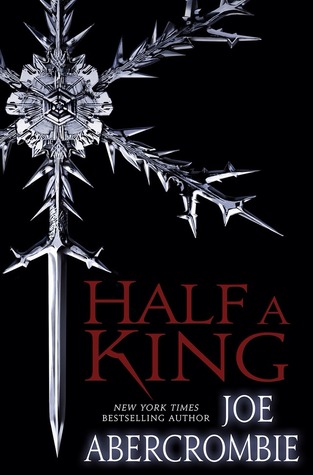 Author: Joe Abercrombie
Series: Shattered Sea Trilogy #1
Genre: Fantasy, Young Adult Fiction
Format: Hardback
Pages: 336
Synopsis:
Betrayed by his family and left for dead, Prince Yarvi, reluctant heir to a divided kingdom, has vowed to reclaim a throne he never wanted.
But first he must survive cruelty, chains and the bitter waters of the Shattered Sea itself – all with only one good hand. Born a weakling in the eyes of a hard, cold world, he cannot grip a shield or swing an axe, so he has sharpened his mind to a deadly edge.
Gathering a strange fellowship of the outcast, he finds they can help him more than any noble could. Even so, Yarvi's path may end as it began – in twists, traps and tragedy.
My Review:
Wait, this is YA? If more YA fantasy books were like this, I'd probably read them more often. Half a King is the first book I've read by Joe Abercrombie and if his books only get better from here, I'm in for a treat.
I loved Abercrombie's writing. His voice is so distinct with dark humour, insightful lines, and grim storytelling. The world he crafts is a rough one and he doesn't sugarcoat it. I didn't realize how much I missed dark fantasy until this one. If you love Scott Lynch, Abercrombie is bound to get in your good graces.
Half a King is the first book in the Shattered Sea trilogy with each book serving as a 'standalone'. Basically, the second and third instalments will be focusing on different characters in the same realm. This was another reason Half a King was satisfying to me. Abercrombie wrote me a ~300 page story that had a main problem, interesting characters, some character development, unpredictable plot twists, and an ending that tied loose ends while keeping it open enough for the second one.
Readers hoping to know more about the secondary characters may find the book lacking. I liked the secondary characters, but because of the length and the MC-centred nature of the story, there simply wasn't enough time. I didn't find myself attached to them because there was nothing that got me to strongly root for any of them. Then again, Abercrombie's characters were never inherently good or evil so I guess that's the point (which is a good thing)!
This was a solid 3 star read for me. I liked it and enjoyed it, but I wasn't quite in love with it. I found the book easy enough to put down and walk away from no matter what was happening so I wasn't as engaged as I hoped to be. I heard the second book is even better though so I'm looking forward to it!
Rating: ★★★/5