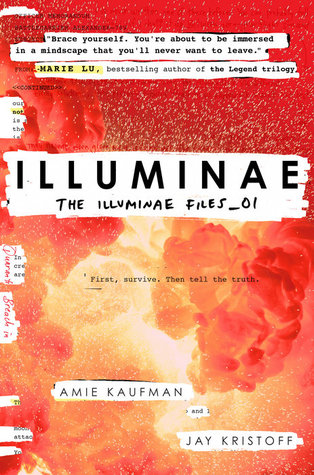 Authors: Amie Kaufman & Jay Kristoff
Genre: Young Adult, Science Fiction
Format: Hardcover
Pages: 599
Book Depository
Synopsis:
This morning, Kady thought breaking up with Ezra was the hardest thing she'd have to do.
This afternoon, her planet was invaded.
The year is 2575, and two rival megacorporations are at war over a planet that's little more than an ice-covered speck at the edge of the universe. Too bad nobody thought to warn the people living on it. With enemy fire raining down on them, Kady and Ezra—who are barely even talking to each other—are forced to fight their way onto an evacuating fleet, with an enemy warship in hot pursuit.
But their problems are just getting started. A deadly plague has broken out and is mutating, with terrifying results; the fleet's AI, which should be protecting them, may actually be their enemy; and nobody in charge will say what's really going on. As Kady hacks into a tangled web of data to find the truth, it's clear only one person can help her bring it all to light: the ex-boyfriend she swore she'd never speak to again.
Told through a fascinating dossier of hacked documents—including emails, schematics, military files, IMs, medical reports, interviews, and more—Illuminae is the first book in a heart-stopping, high-octane trilogy about lives interrupted, the price of truth, and the courage of everyday heroes.
Review:
I always feel cheated when a hyped book isn't actually that great when I finally read it. I know I'm in the minority on this, but this teaches me not to buy books just because they're hyped.
Visually speaking, Illuminae is one of the most fun and creative books I've read. But what it excelled at in its format didn't quite make up for what it lacked in the story and its characters.
Illuminae gives us humour, romance, and space adventure. Those were all well and good until the romance seemed to overshadow everything. In some ways I wonder if the book would have been as well received if romance was taken out of the story. The more I read the book, the more tired I felt about the MCs romantic relationship. There were conversations that just seemed to lack feeling/depth, as if to say 'this is what lovers typically say, so here it is.'
While I didn't hate the main characters, I also didn't find them very interesting. Kady felt like another cutout for a strong heroine while Ezra seemed to be written for the sole purposes of being a) a love interest and b) comic relief. Kady was also incredibly good at what she did in the book, too good.
My favourite part about the book (other than its visuals) was the AI's questioning of humanity, our actions, and decisions. I liked watching it scoff at our weaknesses and human tendencies, while eventually coming to understand and empathize with our thoughts and emotions.
Overall Illuminae was a good book. I had fun with it but I'm also not itching to read its sequel, Gemina.
Rating: ★★★/5