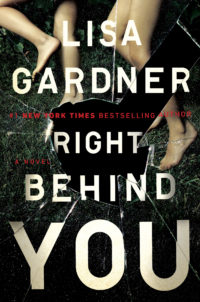 Author: Lisa Gardner
Genre: Thriller
Format: Advance Reading Copy courtesy of Dutton Books and Penguin Random House
Pages: 413
Book Depository
Synopsis:
Is he a hero?
Eight years ago, Sharlah May Nash's older brother beat their drunken father to death with a baseball bat in order to save both of their lives. Now thirteen years old, Sharlah has finally moved on. About to be adopted by retired FBI profiler Pierce Quincy and his partner, Rainie Conner, Sharlah loves one thing best about her new family: They are all experts on monsters.
Is he a killer?
Then the call comes in. A double murder at a local gas station, followed by reports of an armed suspect shooting his way through the wilds of Oregon. As Quincy and Rainie race to assist, they are forced to confront mounting evidence: The shooter may very well be Sharlah's older brother, Telly Ray Nash, and it appears his killing spree has only just begun.
All she knows for sure: He's back.
As the clock winds down on a massive hunt for Telly, Quincy and Rainie must answer two critical questions: Why after eight years has this young man started killing again? And what does this mean for Sharlah? Once upon a time, Sharlah's big brother saved her life. Now, she has two questions of her own: Is her brother a hero or a killer? And how much will it cost her new family before they learn the final, shattering truth? Because as Sharlah knows all too well, the biggest danger is the one standing right behind you.
I received an advance reading copy of this book from Dutton Books and Penguin Random House in exchange for an honest review.
My Thoughts:
I can count the number of thrillers I've read in one hand but since I started reading them in 2016, it's one genre I've enjoyed coming back to. Lisa Gardner's Right Behind You was the thriller I didn't know I was searching for.
Here's what I loved about it:
I could tell a lot of research went into writing Right Behind You. From handling specific guns, tracking fugitives, background on the foster system, and mental disorders, I appreciated the amount of information the author provided without turning it into a dull info dump.
Readers who love seeing the behind-the-scenes of police/investigative work will have fun with this book. I loved watching the characters' line of thinking with each theory they came up with, specially when they'd find contradicting evidence.
The best part about Right Behind You is that I

cared

 about the characters. Any author who can get me invested in a character's story is a must-read in my books. There's being interested in how things turn out and there's also the need-to-know kind where you can't possibly sleep unless you know certain characters are going to be okay. Right Behind You did that which, being a thriller, I didn't think was possible (I know, I'm new).
I did feel the book was repetitive and a touch dramatic in parts but these were very minor when it came to how much I loved reading it. Right Behind You is definitely a thriller you don't want to miss. It felt like watching a multi-episode storyline of Law & Order and I was ready to cancel my plans and binge-watch all day. Right Behind You is one exciting page-turner that will leave Lisa Gardner on my watch list for years to come.
Rating: ★★★★.5/5