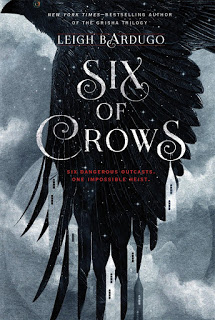 Title: Six of Crows
Author: Leigh Bardugo
Genre: Fantasy
Series: Book 1
Pages: 465
Rating: ★★★★1/2
Buy on The Book Depository
Synopsis:
Ketterdam: a bustling hub of international trade where anything can be had for the right price—and no one knows that better than criminal prodigy Kaz Brekker. Kaz is offered a chance at a deadly heist that could make him rich beyond his wildest dreams. But he can't pull it off alone…
A convict with a thirst for revenge.
A sharpshooter who can't walk away from a wager.
A runaway with a privileged past.
A spy known as the Wraith.
A Heartrender using her magic to survive the slums.
A thief with a gift for unlikely escapes.
Kaz's crew are the only ones who might stand between the world and destruction—if they don't kill each other first.
Review:
I was hesitant to read this book because of all the hype it's gotten. It's always a hit or miss for me – either I agree with the hype or completely miss it. I'm glad I decided to find out for myself because I loved this book. It's been a long time since I've enjoyed YA fiction this much and it's refreshing.
See, I love a good heist. I love the clever scheming that goes into it and when you have an interesting crew? Even better. It's always entertaining finding out about each one, what they're specialties are and what brought them to the trade. If you liked the The Final Empire for this reason, I recommend adding Six of Crows to your to-read list.
Let's talk about having six characters. Usually, having this many POVs in one book is already something I'm not keen about because that also equals six back stories. But Bardugo made it work. In fact, I'd even say the story flowed nicely because of it. I don't see this happen often and I admire Bardugo for achieving it.
Now to my favourite part: character development. We definitely see some character development happen here, but they're still budding and makes you curious to see where it takes them. I appreciate the slow pace when it comes to this part of a story because it's realistic (Malta from The Liveship Traders Trilogy anyone?). People can only change so much in a short time.
Another thing Bardugo did well is giving us character depth. There is always more to a character than what we initially see and she peeled those layers tactfully. Bardugo also does a good job showing that these characters are human. They make mistakes, they get carried away, and sometimes? They can be truly frightening. You will not agree with everything they do but that's human nature, isn't it? When a book executes that without completely turning off the reader, it's a plus for me. These characters are not your poster children and in some ways, that's what makes them likable.
Overall, I found Six of Crows hard to put down. It was action-packed, intriguing, and contained enough mystery that tempted me to keep going. Every time I took a break from reading, I found myself drawn back to it minutes later. I finished it in one day, and if that doesn't say anything, I'm not sure what will. I have high hopes for this one and I'm looking forward to the next installment!