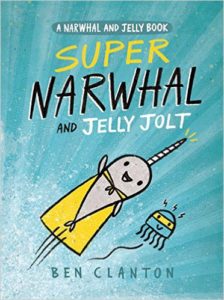 Author: Ben Clanton
Genre: Children's Fiction
Publication Date: May 2, 2017
Format: eBook
Pages: 64
Synopsis:
Happy-go-lucky Narwhal and no-nonsense Jelly find their inner superheroes in three new under-the-sea adventures. In the first story, Narwhal reveals his superhero alter-ego and enlists Jelly to help him figure out what his superpower is. Next, Narwhal uses his superpower to help a friend find his way back home. In the third story, Jelly is feeling blue and Narwhal comes to the rescue. Ben Clanton showcases the joys of friendship and the power of believing in yourself and others through this irresistible duo.
My Review:
I received an advance reading copy of this book from Penguin Random House Canada in exchange for an honest review.
Narwhal and Jelly are on a mission to channeling their inner superheroes! This is the perfect pick-me-up for anyone looking for something quick, cute, and heartwarming. As our duo figure out what they need to do to become superheroes, I found myself smiling at their conversations. I also fell in love with the illustrations in this book! I'm definitely keeping an eye out for Ben Clanton from now on, his books are a must for anyone needing a dose of adorable!
Rating: ★★★★/5