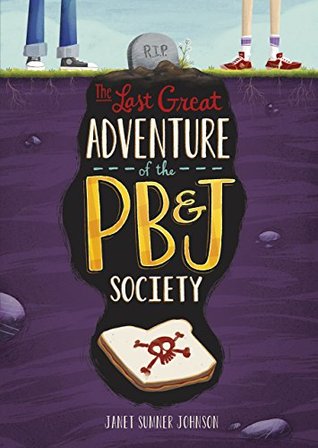 Title: The Last Great Adventure of the PB&J Society
Author: Janet Sumner Johnson
Genre: Middle Grade Fiction
Pages: 256
Rating: ★★1/2
Synopsis:
Some things are better together. Like peanut butter and jelly. Or Annie and Jason. So when her best friend's house is threatened with foreclosure, Annie Jenkins is bursting with ideas to save Jason's home. She could sell her appendix on eBay. (Why not?) Win the lottery. (It's worth a shot!). Face the evil bankers herself. (She's one tough cookie, after all.) Or hunt down an elusive (and questionably real) pirate treasure. Whatever the plan, it has to work, or this is undoubtedly THE LAST GREAT ADVENTURE OF THE PB&J SOCIETY.
Review:
I received an advance reader's copy of this book in exchange for an honest review.
It's peanut butter jelly time! As a big PB&J fan, I couldn't resist picking this up. When I read that one of the characters considered selling her appendix on eBay to help her best friend's financial situation at home, I was sold.
Annie and Jason have been best friends for life. When Jason's house is put up for sale, the duo comes up with a number of plans to prevent that from happening. Annie is quite the idea generator and you can count on her when it comes to writing down Plans A-Z. I love the childlike naiveté we get from these two. You'll get a chuckle every now and then by how they perceive life and growing up. I actually wished I was part of their PB&J Society.
Unfortunately, Annie's plans don't always go as… planned. Most of the time, it gets her and Jason in trouble. Annie is one spunky and determined 10-year old though, because giving up is not in her vocabulary. While this is all well and good, it's also her biggest flaw. She'd ignore Jason's warnings to prove she's right until it causes harm and she regrets it. And to be perfectly honest, I almost gave up on this book because Annie annoyed me so much. Thankfully, she learns to listen to others and matures by the end of the book.
I wasn't a fan of Annie's siblings either. I felt they were included in the book just for the sake of having extra bodies and bratty ones at that. With loving parents and a good kid (Annie is most of the time), how do you get two older siblings more immature than a 10-year old? Think Cinderella's stepsisters and you'll get what I mean.
Other than that, this book is a fun, heartwarming story between two friends who would do anything for each other. It did drag on in parts but I couldn't have asked for a better ending. It was bittersweet but life generally is sometimes (that's why we have things like PB&J to make it a bit better). Would I recommend this book? Not likely. The Last Great Adventure of the PB&J Society was promising but it was not quite there yet.