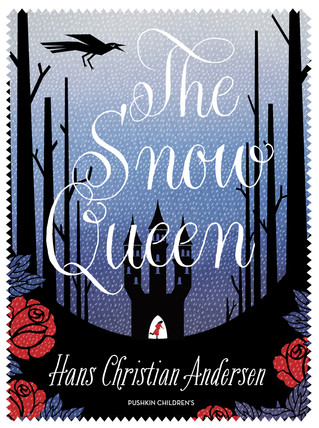 Title: The Snow Queen
Author: Hans Christian Andersen
Genres: Children's Fiction, Classics
Pages: 96
Rating: ★★★
Buy on The Book Depository
Synopsis:
When Kai is cursed by a magic mirror, he can no longer perceive goodness in anything – not his best friend Gerda, nor the roses in the garden. One wintry evening, he is kidnapped by the wicked Snow Queen and swept away to live for ever in her kingdom of ice. Friendless and shoe-less, Gerda must travel through inhospitable lands, with only crows to guide her and bandits for company, in order to find her beloved friend. And when she gets there, how will she melt the ice in his heart? Nearly two centuries after its first publication, The Snow Queen endures as a tale of love and loss, good and evil, and loyalty in the face of great hardships.
Thank you to Pushkin Children's Books for sending me this book in exchange for an honest review.
The Snow Queen is a touching story about two friends who dearly love each other. Kai and Gerda, best friends since childhood, have been inseparable until Kai is whisked away by the Snow Queen.
Gerda is the embodiment of a true friend. When Kai goes missing, people eventually believed he had died but Gerda was not convinced. Determined to find Kai, Gerda leaves home and goes on a journey to save him. From meeting witches, bandits, and royalty to speaking to flowers, crows, and reindeer, Gerda reaches the Snow Queen's palace and reunites with Kai.
I love a good fairytale, and I loved Hans Christian Andersen's writing in this story. His style sometimes reminded me of Lewis Carroll's Alice's Adventures in Wonderland and that made it much more enjoyable for me.
This story is one of love, friendship, and loyalty and for that alone it's a classic fairy tale worth reading. However, I found myself underwhelmed by the fact that we actually don't learn much about the Snow Queen. If you're looking to read more about the Snow Queen herself, I recommend looking elsewhere.