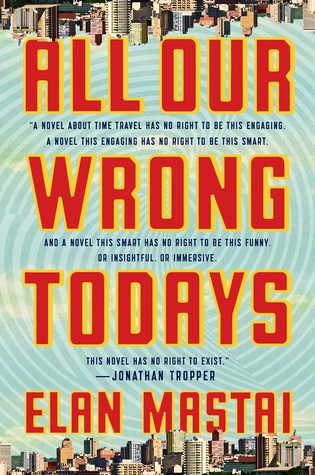 Author: Elan Mastai
Genre: Sci-fi, Adult Fiction
Formats: Paperback, Kindle edition
Pages: 384
Synopsis:
You know the future that people in the 1950s imagined we'd have? Well, it happened. In Tom Barren's 2016, humanity thrives in a techno-utopian paradise of flying cars, moving sidewalks, and moon bases, where avocados never go bad and punk rock never existed . . . because it wasn't necessary.
Except Tom just can't seem to find his place in this dazzling, idealistic world, and that's before his life gets turned upside down. Utterly blindsided by an accident of fate, Tom makes a rash decision that drastically changes not only his own life but the very fabric of the universe itself. In a time-travel mishap, Tom finds himself stranded in our 2016, what we think of as the real world. For Tom, our normal reality seems like a dystopian wasteland.
But when he discovers wonderfully unexpected versions of his family, his career, and—maybe, just maybe—his soul mate, Tom has a decision to make. Does he fix the flow of history, bringing his utopian universe back into existence, or does he try to forge a new life in our messy, unpredictable reality? Tom's search for the answer takes him across countries, continents, and timelines in a quest to figure out, finally, who he really is and what his future—our future—is supposed to be.
My Review:
I received an advance reading copy of this book from Dutton Books and Penguin Random House in exchange for an honest review.
3.5/5*s
I've been looking forward to reading All Our Wrong Todays since I first heard about it. I mean, there's a 2016 where The Jetsons future actually exists? And then someone from that utopia time travels to our 2016 and it's one heck of a primeval dystopia? Count me in.
When Mastai first pitched his book, I remember him saying it's either the best of worst book I'd read. After finally getting the chance to read it, I'm glad to say I liked it.
One thing I loved about the book is how it was written. Mastai writes his book from the perspective of his main character, Tom Barren. Except Tom Barren is 'writing' the book as a memoir, so reading a book within a book was like a literary Inception experience. I also enjoyed the times Tom broke the fourth wall which made it more entertaining for me as a reader.
I also liked how easy it was to read the book. I was a little concerned that the scientific jargon would be tedious, but while the jargon is still there, Tom's narration was light, funny, and very dynamic. I didn't mind not completely understanding how the science worked either because Tom felt the same way.
Another thing I liked about All Our Wrong Todays were the insightful bits that popped up from time to time. Mastai touches on life, relationships, family, and fate in a way that caused me to pause and think about what he's saying.
I do feel that the book's later half was more exciting than the first, and while the first still kept my interest, it felt like a slow build up. As far as standalones go though, I was quite satisfied with All Our Wrong Todays and I look forward to what else Mastai writes in the future.
Rating: ★★★.5/5