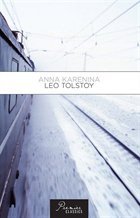 Author: Leo Tolstoy
Publication Date: October 2009 (first published 1877)
Publisher: Knopf Publishing Group
Genre: Classics
Format: Paperback
Pages: 963
Source: Purchased

Book Depository
Synopsis:
While it is best known as a novel about adultery, Anna Karenina examines some of the most important issues at the heart of the nineteenth-century Russian milieu: family, loyalty, freedom-of-choice, status, and social obligation. As Matthew Arnold wrote in his essay on Tolstoy, "We are not to take Anna Karenina as a work of art; we are to take it as a piece of life." Anna Karenina is married to a St. Petersburg government official when she meets and falls in love with a dashing military man, Alexei Vronsky. When their love affair is discovered, it is Anna alone that is scorned by society, which pushes her toward heartrending choices. Tolstoy paints a stunning canvas of Russian life, providing both balance and contradiction to Anna's ultimately tragic search for happiness and love.

Continue Reading