I don't always come up with 5 books for every T5W topic but I just had to join in this week.  This week's T5W focuses on series that got better after the first (or few) books before really getting to the good parts! I struggled a liiiittle bit with this one because I'm just terrible at finishing series. 😂
BUT I did manage it so let's get to it!
---
Realm of the Elderlings by Robin Hobb (16 books)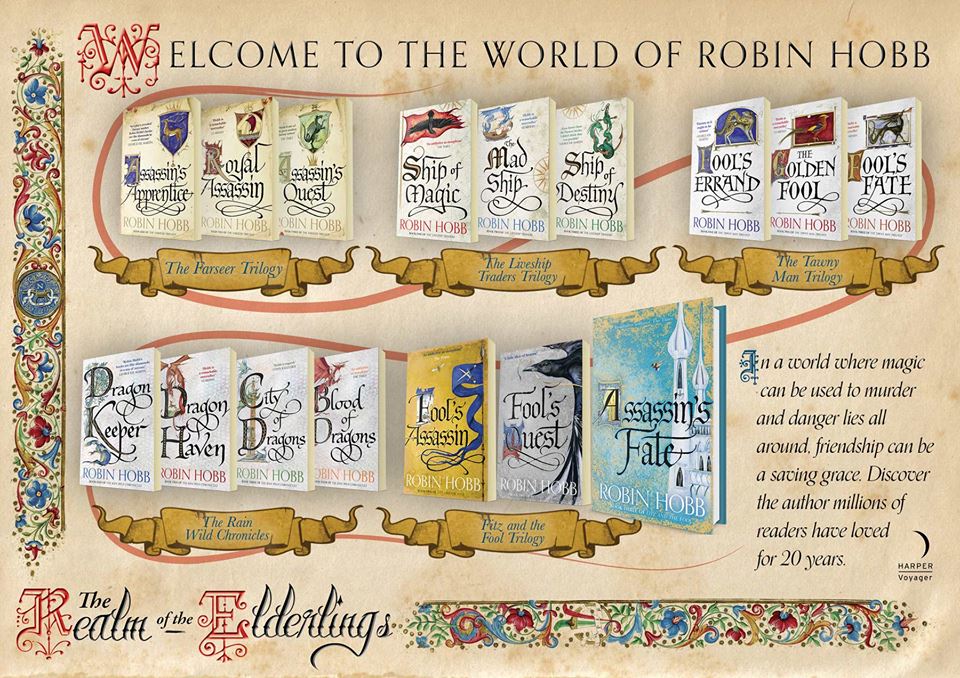 This series actually consists of four trilogies and one quartet. Before you write this off because it's too long or you don't have time for it – hear me out! The Realm of the Elderlings is my favourite high fantasy series to date and it has everything you could want in a series. Because the books are all connected to each other, the recommended reading order is:
Farseer Trilogy
Liveship Traders Trilogy
Tawny Man Trilogy
Rain Wild Chronicles
The Fitz and The Fool Trilogy
If you've heard of these books, you may be tempted to read them out of order and start with the latest trilogy. I strongly advise you against that because you're going to miss so much! If you've read the Farseer Trilogy and felt it wasn't worth the hype, I still encourage you to keep going. Trust me, it gets better and better from there. The Farseer Trilogy builds a strong foundation for the following books (except for Liveship Traders and Rain Wild Chronicles) so if you read them in order, you'll find some Easter eggs with interconnected plot lines that will be more satisfying to read if you staredt from the beginning.
There's also a read-along happening on August 1st on Instagram so if you want to get into this amazing series, now's the perfect time to pick up the first book which is Assassin's Apprentice.
The Dark Tower by Stephen King (8 books)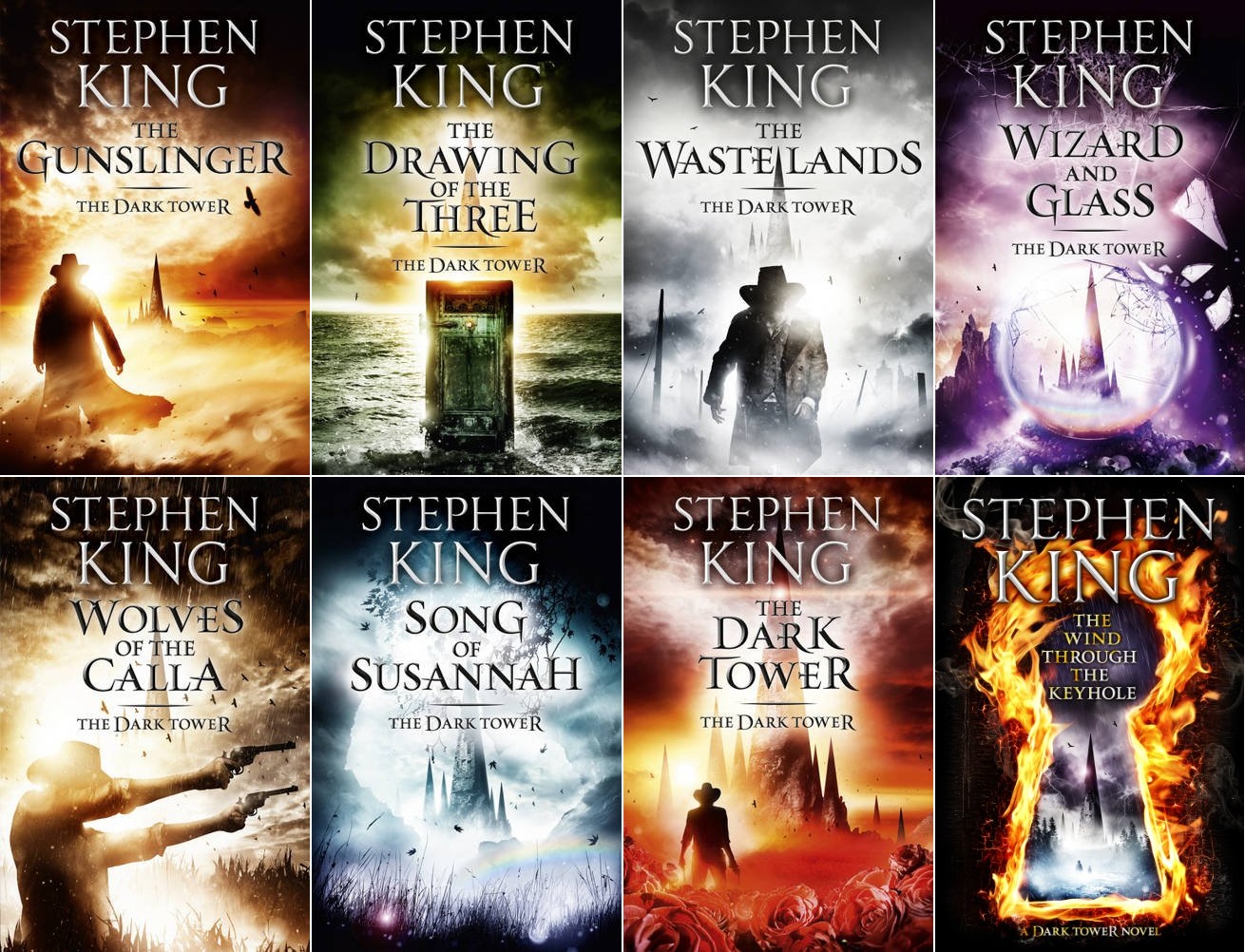 It might be too soon for me to say this since I'm only on Book 3 but based on what I've read so far and what friends have told me, this series is worth sticking to! When I read the first book, The Gunslinger, I barely had any idea of what's going on. I was so confused and doubted whether or not I'd really get into this series. After reading The Drawing of the Three though, I couldn't wait to keep going. The second book was so different from the first one that I often wondered if it was written by the same man. I'm also happy to report that I'm very much enjoying the third book and it's by far my favourite!
Naruto by Masashi Kishimoto (72 volumes)
I used to binge read manga series when I was in high school but I stopped reading them consistently when I was in university. One of my favourites, Naruto, ended Fall of 2015 and I can now read the rest of the series without having to wait for future volumes!
I know what you're thinking – 'you want me to read 72 volumes of manga, Shari?! are you crazy?' and my answer to that would be yes, I definitely do (and yes I might be crazy). Manga tends to go by pretty quickly though, specially one packed with action scenes. It's about ninjas! That alone should be reason enough. 😆
Naruto, as you might have guessed, focuses on the life of Naruto Uzumaki, an orphan who is often avoided/hated by people in his village without knowing the reason for it. Often bullied and made fun of, Naruto sets his mind to one day becoming the Hokage, the strongest and most respected ninja in the Hidden Leaf. That may not sound very exciting, but there is so much more to this series! I loved discovering the differences from each of the villages and I found myself growing attached to certain characters. Kishimoto's world building is also quite impressive – not only does he chronicle Naruto's life but he also writes about the history of the Hidden Leaf, provides backstories for secondary characters, and comes up amazing fighting techniques. There is also a good amount of character development/relationships that gave me feels and if that doesn't get you curious enough, I don't know what will.
Shades of Magic by V.E. Schwab (3 books)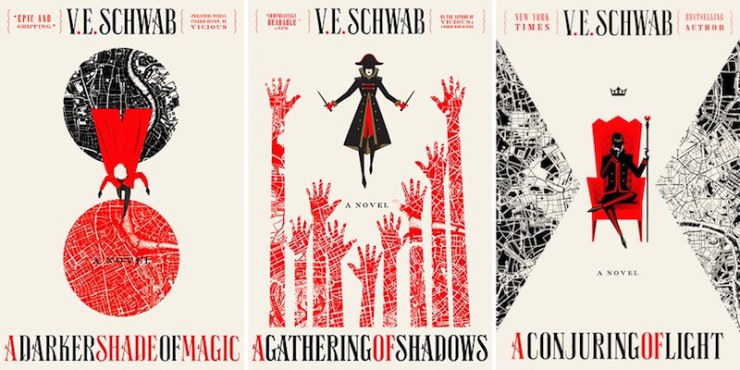 I love V.E. Schwab and I adore her books but it wasn't really until the second book, A Gathering of Shadows, that I came to love this series. The second book was better paced, more entertaining, more emotional, and more gripping than its predecessor. Have I mentioned how much I love the magic system in this series? I'm not going to spoil anything but the Essen Tasch was definitely one of my favourite things about AGOS. The action, the magic, the fight scenes! So good.
The Lunar Chronicles by Marissa Meyer (4 books)

Okay, I've only read two books in this series BUT the second book was so much better than the first one that it actually convinced me to keep going. A few friends have also told me that Cress is their favourite book so I'm really looking forward to reading it.
---
Aaaand that's a wrap! I hope you enjoyed this week's T5W! If you're interested in doing a T5W post, you can check out the Goodreads group for monthly topics. Were there any series on my list you'd be interested in picking up?