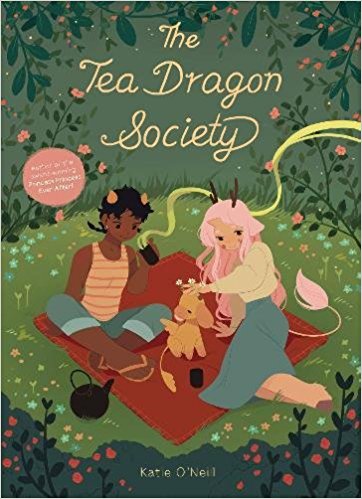 The Tea Dragon Society
Graphic Novels, Middle Grade
Oni Press
October 31, 2017
eARC
72
NetGalley
From the award-winning author of Princess Princess Ever Aftercomes The Tea Dragon Society, a charming all-ages book that follows the story of Greta, a blacksmith apprentice, and the people she meets as she becomes entwined in the enchanting world of tea dragons.
After discovering a lost tea dragon in the marketplace, Greta learns about the dying art form of tea dragon care-taking from the kind tea shop owners, Hesekiel and Erik. As she befriends them and their shy ward, Minette, Greta sees how the craft enriches their lives—and eventually her own.
ARC provided by publisher via NetGalley for an honest review.
Oh, this was the CUTEST BOOK EVER. Sometimes you just have to review with a .gif so here's one that captures how I felt while reading:
I basically didn't know what to expect from this, but after seeing some of the art from the book, I had to read it!
I love dragons. And tea. So baby dragons AND tea just…
As if the art and the dragons weren't enough, it also comes with a heartwarming story. At its core O'Neill writes about two arts that are no longer appreciated by society – blacksmithing and caring for tea dragons. In our fast paced world I appreciated O'Neill touching on the beauty of old practices, even when they both require a lot of hard work and waiting.
This was also a tale of friendship and family, of adventures long gone, but present days being filled with good memories. I also loved the diverse cast and different species and I can't wait to read more about them.
This book made me so happy! The artwork was stunning and the book was absolutely delightful. I don't care how old you are, you need to read this.