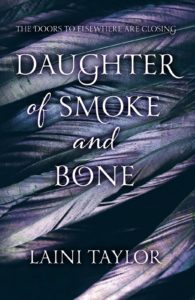 Title: Daughter of Smoke and Bone
Author: Laini Taylor
Genres: Fantasy, Young Adult
Series: Daughter of Smoke and Bone #1
Pages: 418
Rating: ★★
Synopsis:
Around the world, black hand prints are appearing on doorways, scorched there by winged strangers who have crept through a slit in the sky.
In a dark and dusty shop, a devil's supply of human teeth grows dangerously low.
And in the tangled lanes of Prague, a young art student is about to be caught up in a brutal otherworldly war.
Meet Karou. She fills her sketchbooks with monsters that may or may not be real, she's prone to disappearing on mysterious "errands", she speaks many languages – not all of them human – and her bright blue hair actually grows out of her head that color. Who is she? That is the question that haunts her, and she's about to find out.
When beautiful, haunted Akiva fixes fiery eyes on her in an alley in Marrakesh, the result is blood and starlight, secrets unveiled, and a star-crossed love whose roots drink deep of a violent past. But will Karou live to regret learning the truth about herself?
My Thoughts:
Why… why… why?
This book started so strongly! A female protagonist with spunk and blue hair collecting teeth for demons as a side job. Karou doesn't really know who she is, where she came from, or who her parents are. It's a question that constantly hunts her as she lives her life in Prague.
I have a soft spot for art students, so I immediately liked Karou. I also loved her personality – she was funny, sarcastic, and didn't tolerate douches like her ex-boyfriend. She also had a lovable best friend who was just as interesting.
I also thought Taylor did an exceptional job with the worldbuilding. The places Karou went to were described in such a captivating way that you couldn't help but feel and want to be there with her.
The mystery around Karou's identity, odd side job, and relationship to the demons intrigued me. When black hand prints started appearing on doorways all around the world, I was hooked.
And then… it happened. Karou met Akiva. This is where it started going south. In the book Akiva is described as the most beautiful thing Karou has ever seen. Everything about him was just achingly perfect. I'm not going to provide quotations, because there's quite a few in the book, but this is where I started cringing. Karou, already described in the beginning as being beautiful, meets Akiva whose beauty is apparently out of this world. And you guessed it, they are not only attracted to each other, but drawn to each other.
I was curious enough to find out how their relationship would play out, but the further I read, the more predictable things became. While the latter half of the book told us the story of why the two characters were drawn to each other, it felt like all I read was constant gushing. Gushing about the attraction, the physical touches, etc. etc. We also get the reason why they can't be together, which was also a letdown because it deflated any hope I had that the book would get better. And no, I wasn't hoping for a happy ending.
Had I read this book at a different time, maybe I would have enjoyed it. At this point though, I have no interest in continuing with the next one.