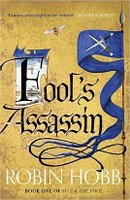 Author: Robin Hobb
Series: Fitz and the Fool Trilogy #1
Genre: Fantasy, Adult Fiction
Format: Paperback
Pages: 640
Synopsis excluded for potential spoilers of previous books.
My Review:
"There are endings. There are beginnings. Sometimes they coincide, with the ending of one thing marking the beginning of another. But sometimes there is simply a long space after an ending, a time when it seems everything else has ended and nothing else can ever begin."
Just when I thought Hobb couldn't outdo herself and she can't possibly overwhelm me with more emotions than she already has, she does. Fool's Assassin brought out a mixture of joy, sadness, anger, fear, and a whole lot of pain and anxiety.
Hobb has ruined every fantasy author for me. She has written books that I feel were tailored to everything I love as a reader and I dread the day this series ends.
Hobb continues to amaze me with her characters and how much I've come to care about them. Their relationships, dynamics, longings, mistakes, foolishness, and imperfections – Hobb just writes them so well, and so realistically that they don't feel like characters on a page! I almost get mad (then sad) when I look up from my book and realize I can't ever meet them.
I have nothing but praises for Hobb and as painful as her books can be, I'm also eager to start the next.
Rating: ★★★★★/5