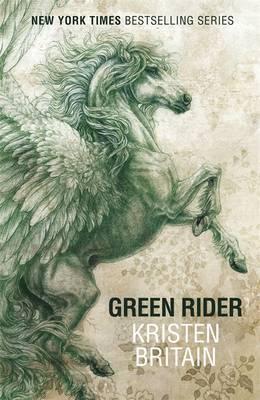 Green Rider
Green Rider #1
Fantasy, Young Adult
Gollancz
March 1, 2011
Paperback
592
Book Depository
Karigan G'ladheon always seemed to be getting into a fight, and today was no exception. But as she trudged through the forest, using her long walk home to contemplate her depressing future - and the expulsion it was bound to hold - a horse burst through the woodland and charged straight for her. The rider was slumped over his mount's neck with two arrows embedded in his back. Wherever his horse was taking him, he would be dead before they got there. There's nothing Karigan can do, as the young man lies dying on the road. He had sworn to carry out his mission as a Green Rider - one of the legendary messengers of the king - and he has a life or death message that must reach King Zachary. Karigan may be unable to save him, but she can deliver his message. He makes her swear to it, to keep it secret and, with his last breath, he warns her to 'beware the shadow man . . .' Pursued by an unknown assassin, following a path only her horse seems to know, and accompanied by the silent specter of the original messenger, Karigan is going to become a legendary Green Rider herself. Caught up in a world of deadly danger and complex magic, compelled by forces she cannot understand, her simple promise to deliver a letter is about to become a race against time . . . and a race for her life . . .

What a satisfying debut novel! I enjoyed this book more than I thought I would and I'm looking forward to reading the next instalment of this series.
Readers who love classic fantasy will enjoy Green Rider. The Tolkien inspiration is hard to miss in this book but Britain also managed to make it her own.
I liked how the protagonist, Karigan, wasn't particularly a 'chosen one'. How she came to go on her quest was mainly by chance and it was so refreshing that she wasn't a stereotypical cut-out of a strong female character that naturally had incredible fighting skills. Karigan goes through many obstacles in her journey but she struggles to overcome them. She also had a lot of help which I thought was more realistic than her just magically gaining abilities. There IS magic yes, but I liked how Kari was as clueless and confused by it when she found out it existed. I also thought Britain did a great job in writing Kari's character development. I love that her decisions made sense for who she was (specially at the end!) and I could only attribute that to how real she felt to me.
I also appreciated how there was no romance! There were hints at possibilities but the lack of insta-love was so gratifying.
Green Rider definitely served its purpose as a first book in the series. It did spend quite some time with world building and while I felt the beginning dragged at times, I found it hard to stop reading once it picked up. This book was a good set up for what's to come and I'm glad to say that I'm not only interested in Kari's journey but of the other characters I've become fond of.