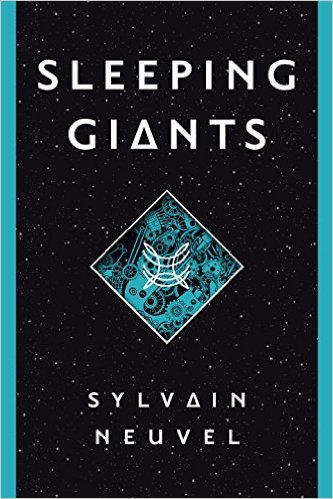 Author: Sylvain Neuvel
Series: Themis Files #1
Genre: Science Fiction
Format: Hardback, Audiobook
Pages: 304 Hours: 8 hrs 28 mins
Book Depository
Synopsis: 
A girl named Rose is riding her new bike near her home in Deadwood, South Dakota, when she falls through the earth. She wakes up at the bottom of a square hole, its walls glowing with intricate carvings. But the firemen who come to save her peer down upon something even stranger: a little girl in the palm of a giant metal hand.
Seventeen years later, the mystery of the bizarre artifact remains unsolved—its origins, architects, and purpose unknown. Its carbon dating defies belief; military reports are redacted; theories are floated, then rejected.
But some can never stop searching for answers.
Rose Franklin is now a highly trained physicist leading a top secret team to crack the hand's code. And along with her colleagues, she is being interviewed by a nameless interrogator whose power and purview are as enigmatic as the provenance of the relic. What's clear is that Rose and her compatriots are on the edge of unraveling history's most perplexing discovery—and figuring out what it portends for humanity. But once the pieces of the puzzle are in place, will the result prove to be an instrument of lasting peace or a weapon of mass destruction?
---
My Thoughts:
I'd like the next book now, please and thank you. Or a 5-star movie adaptation.
Sleeping Giants was fantastic and I'll tell you why. It's intriguing, thrilling, and downright scary.
What makes Sleeping Giants intriguing is how we're first introduced to the story. The book is written in an interview format with each character interviewed by an unnamed yet highly influential person. Neuvel doesn't give us the traditional paragraphs or dialogue that we're used to, but he manages to weave events and imagery from these interviews. I was wary of reading a book written like this, but once I got into the story, I didn't mind it. What fascinated me about Sleeping Giants is the mystery surrounding this giant metal hand. Like the characters, I wanted to know where it came from, what it did, and why it exists.
The more answers I got, the more I wanted to know. It was like discovering a new book and everything about it excited me (oh wait). I needed to know what was next, and quickly. I was thrilled. I enjoyed Sleeping Giants so much that when I couldn't read, I borrowed the audiobook from my local library so I could listen to it. And while I'm at it, the audiobook was amazing. I'm not a big listener of audiobooks, but I absolutely loved the cast of narrators who brought the characters to life! I actually preferred the audiobook and that's never happened before. If you're feeling hesitant about reading Sleeping Giants because of its interview format, I highly recommend listening to the audiobook. It's THAT good.
Another thing that I loved about Sleeping Giants is how much it reminded me of Pacific Rim. As soon as that thought came to me, I was hooked and bound to love this story. If you love Pacific Rim or the Gundam series from your childhood, you will love this one.
Sleeping Giants also scared me because it was realistic. When you read a synopsis mentioning a giant metal hand, a part of you is going to be skeptical about how believable the book is going to be. I'm happy to say that Neuvel executed this quite nicely. Through the series of interviews I became privy to, I gradually grasped the magnitude of this discovery and how it could affect the future. I witnessed how far some people were willing to go to use this power and what terrified me was the fact that this could happen. Not in the distant future, but right now.
I can't finish this review without mentioning the characters. While Sleeping Giants left me wanting in the area of character development, it does deliver when it came to giving them voice and making them interesting. From Rose to the linguist to the nameless interrogator, I felt something for each one, whether it was respect, disgust, or loathing, they drew these out from me and I loved that.
If you still need convincing, I'm basically itching to put Sleeping Giants in the hands of anyone who enjoys reading. It's now one of my favourite books of 2016 and I'm jumping in my seat as I wait for the sequel.
Rating: ★★★★★