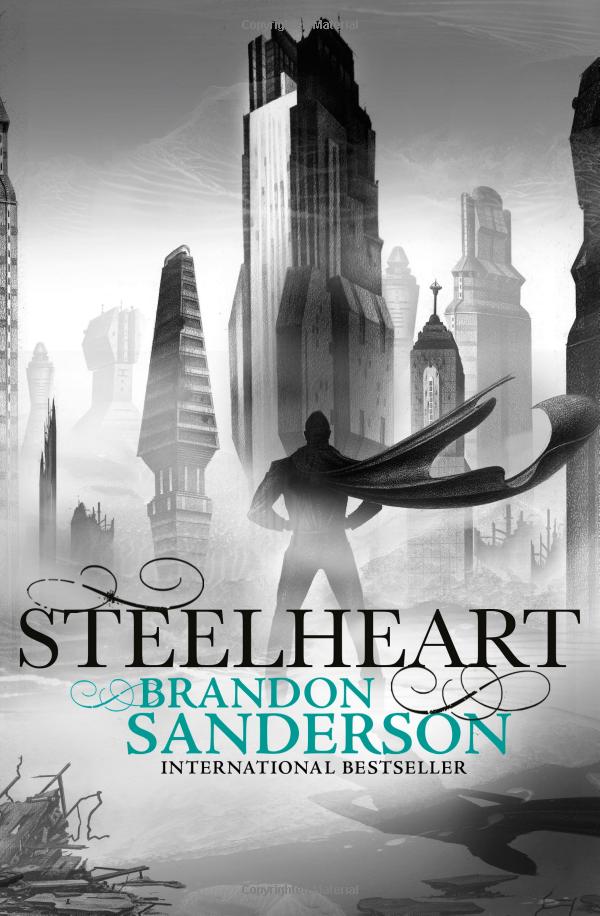 Title: Steelheart
Author: Brandon Sanderson
Genre: Fantasy
Series: Reckoners #1
Pages: 384
Rating: ★★★★
Buy on The Book Depository
Synopsis:
Ten years ago, Calamity came. It was a burst in the sky that gave ordinary men and women extraordinary powers. The awed public started calling them Epics. But Epics are no friend of man. With incredible gifts came the desire to rule. And to rule man you must crush his wills.
Nobody fights the Epics…nobody but the Reckoners. A shadowy group of ordinary humans, they spend their lives studying Epics, finding their weaknesses, and then assassinating them.
And David wants in. He wants Steelheart – the Epic who is said to be invincible. The Epic who killed David's father. For years, like the Reckoners, David's been studying, and planning – and he has something they need. Not an object, but an experience.
He's seen Steelheart bleed. And he wants revenge.
My Thoughts:
"Sometimes, you need to help the heroes along."
If I didn't know Brandon Sanderson wrote this book, I probably wouldn't have picked it up. I'm not a big YA reader to start with and nothing about the synopsis really grabbed my attention. I enjoy Marvel movies and I loved V.E. Schwab's Vicious so I didn't expect to find something different with Steelheart. But that being said, I enjoyed it.
I liked the idea of 'heroes' being the villains in this story. I even liked their names and how it told us something about them without being cheesy. I also particularly liked that David, our protagonist, wasn't one of these Epics. Instead, David is a teenager who spends most of his time researching Epics and planning his revenge on Steelheart. He's kinda like Wade Watts (from Ready Player One) armed with intel and terrible metaphors.
David idolizes the Reckoners so when he finds them, he's starstruck. He's determined to prove his plan will work and help them defeat Steelheart. I initially found David's quest for revenge a bit too dramatic but he soon learns things aren't so simple. Thankfully, he comes to realize there's a price for fighting even though he means well.
I loved the characters in this book. David's dynamic with the Reckoners was something I particularly enjoyed. Sanderson once again manages to give his characters a distinct voice and I'm looking forward to getting to know them as I read the series. There are very few female characters in this book though and I hope that changes in the second one. Sanderson is usually good at keeping his character make up more balanced so this was odd to me. I don't know if this was intentional but it definitely made me feel like Steelheart was a novel version of a comic book geared for boys. I was disappointed that David's POV and interactions with Megan were typical for a male teenager and it was hard not to cringe while reading.
I was intrigued to see how well Sanderson would do when he tried his hand at writing a YA novel. There were things I didn't like about Steelheart but they weren't detrimental to my reading experience. Once again, Sanderson got me with his plot twists. Just when I think I know what he'll do, he does something completely different. If you've never read a book by Brandon Sanderson, I don't recommend starting with this one. Steelheart doesn't showcase many things his other works are known for and if you didn't like this book, I hope you don't use it as the only deciding factor of whether or not you'll read more by him.
I recommend Steelheart if you're looking for an action packed YA read about antiheroes. It's a fun and entertaining book that will also give you little nuggets to think about. I'm especially curious with how Sanderson plans to delve into the concept of how power affects/corrupts people, and where he takes this series overall.