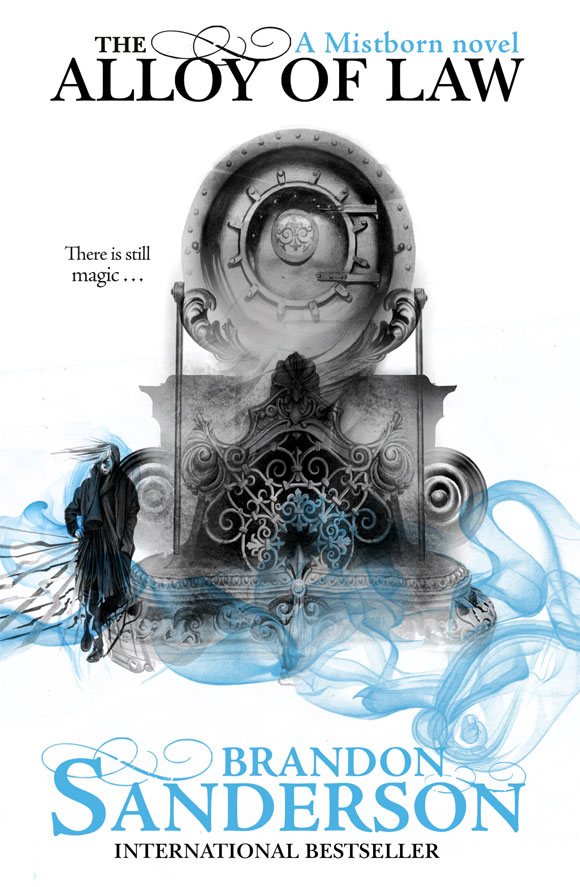 Title: The Alloy of Law
Author: Brandon Sanderson
Genre: Fantasy
Series: Mistborn #4
Pages: 325
Rating: ★★★
Buy on The Book Depository
Synopsis:
In the three hundred years since the events of the Mistborn trilogy, science and technology have marched on. Scadrial is now on the verge of modernity, with railroads, electric lighting, and even the first steel-framed skyscrapers racing for the clouds.
Yet even with these advances, the magics of Allomancy and Feruchemy continue to play a role in this reborn world. Out in the frontier lands known as the Roughs, they are crucial tools for those attempting to establish order and justice.
One is Waxillium Ladrian, a rare Twinborn who can Push on metals with his Allomancy and use Feruchemy to become lighter or heavier at will. After twenty years in the Roughs, Wax must now put away his guns and assume the duties incumbent upon the head of a noble house—until he learns the hard way that the mansions and elegant tree-lined streets of the city can be even more dangerous than the dusty plains of the Roughs.
My Thoughts:
If we think of the Mistborn trilogy as a TV series, The Alloy of Law is like an extended special spanning a few episodes. I think Sanderson just wanted to have a little fun without delving into the amount of worldbuilding and detail he is usually known for.
I enjoyed The Alloy of Law. I love that Sanderson explored the idea of Allomancy and Feruchemy evolving with the times as technology and the way of living progresses in Scadrial. The story is set 300 years after the events from Hero of Ages but there is still enough pieces of the past that make us nostalgic for the world we left behind.
Our main character, Waxillium Ladrian, is a lord in this society. He isn't about that life though; Wax would rather live in the Roughs where he can help people by prosecuting criminals. I've always been fascinated with characters particularly skilled with guns (e.g. Vash the Stampede) so I was really entertained with this part of Wax's character.
My favourite character will have to be Wayne though. His humour and sarcasm had me chuckling and shaking my head and I appreciate him so much for it. I also love the banter that he and Wax get into from time to time.
"That hat looks ridiculous."
"Fortunately, I can change hats," Wayne said, "while you, sir, are stuck with that face."
Sanderson also leaves us with things to be curious about. I'm looking forward to seeing the roles two of our female characters will play in the coming books. I'm especially curious about Ironeyes and Harmony and just exactly who they are. The Alloy of Law is a good book to pick up if you want something light to read without committing to a big series. It's not the next Mistborn novel and expecting it to be one will be doing it a disservice. My advice? Enjoy it for what it was meant to be: a fun side series to our beloved Mistborn trilogy.