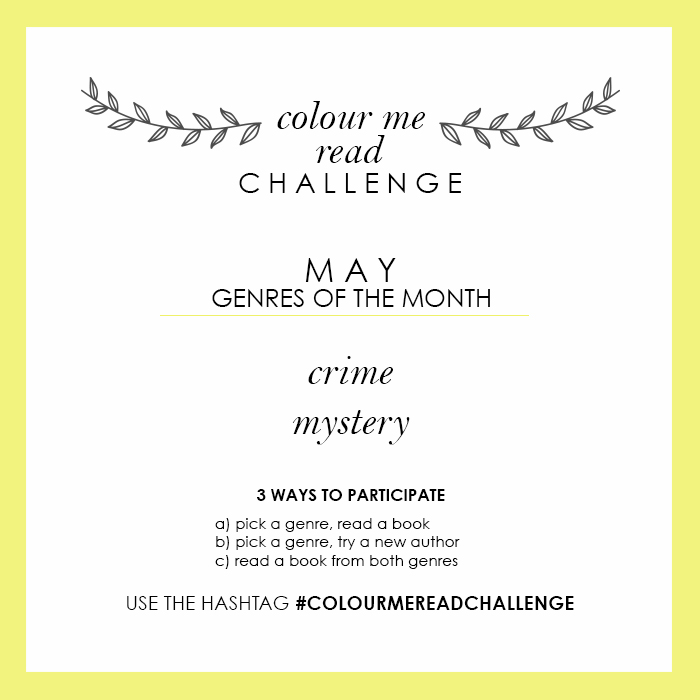 For anyone joining the Colour Me Read Challenge, here is your May card! 😁
GENRES OF THE MONTH:
Crime fiction: the literary genre that fictionalises crimes, their detection, criminals, and their motives.
Mystery fiction: a type of fiction in which a detective, or other professional, solves a crime or series of crimes. The purpose of a mystery novel is to solve a puzzle and to create a feeling of resolution with the audience.
Crime and Mystery fiction are so similar with each other that sometimes books are labelled as Crime/Mystery or Mystery > Crime. A crime novel can be both while a mystery novel doesn't necessarily have to focus on a crime to be solved. When I was talking to Abby (who IMO is the QUEEN of Crime fiction), she said that crime fiction doesn't always have mystery in it either – sometimes we know who committed the crime and read more about their motives or the fallout of the crime. These two genres often overlap and it can be open to interpretation!
Books I've read that are more Mystery than Crime:
The Thirteenth Tale by Diane Setterfield (highly recommend!)
Night Film by Marisha Pessl
Books I've read that fell under both genres:
And Then There Were None by Agatha Christie
If you're unsure of where your book choice falls, I recommend checking Goodreads and seeing the genre users have put it under. The book could be under both and that's totally okay! The purpose of this challenge is to help you read a book under a genre you don't normally pick, so just have fun with it. 😊
As for me, I think I'll challenge myself with a crime novel. Abby recommended the Harry Hole series by Jo Nesbø so I'll see if I can get my hands on the first book soon. 😃
Which genre are you picking and why? Did a book come to mind? Don't forget to use the hashtag if you decide to post a photo! I'd love to see your choices! 💕