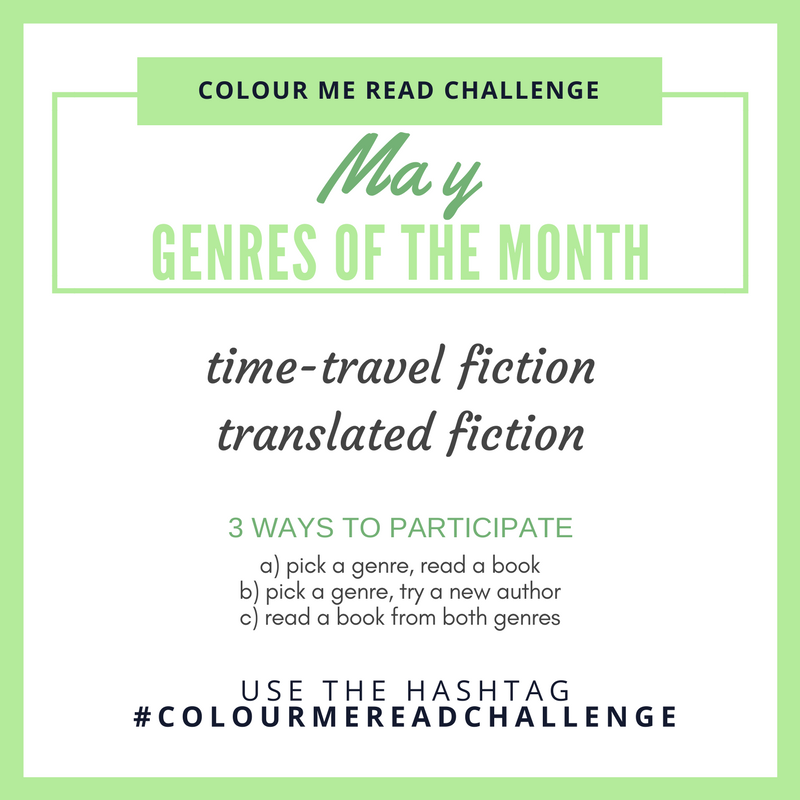 The Colour Me Read Challenge turns 1 YEAR this month! I can't believe it's been a year already but I'm so thankful to each and every one of you who have joined me on this journey. If you've consistently participated each month, you would have read 12 different genres in the past year! If you've read books from BOTH genres each time, that's 24 unique genres. This project has been quite fun for me and I've enjoyed learning more about other genres I didn't even know existed. So far we haven't had repeats and I'm going to see how long we can keep that going!
This month, your genres are:
Time-Travel Fiction
This one is pretty straightforward – if it has time-travel, it fits! Some books that come to mind are The Time Traveller's Wife, All Our Wrong Todays, Outlander, and 11/22/63!
Translated Fiction
This genre focuses on books originally written in another language and translated to English! Examples include War and Peace (Russian), The Shadow of the Wind (Spanish), The Book of Heroes (Japanese), and The Impossible Fairy Tale (Korean).
I think I'll go for a translated fiction book this time! I still have War and Peace to finish and I recently ordered The Impossible Fairy Tale because I personally know the translator.
Which genre will you pick?