Your monthly challenge is now back to its regularly scheduled program! I had a poll running on my Instagram a few days ago asking whether or not the Colour Me Read Challenge should continue. Some months are harder than others when it comes to researching genres and writing about it, so I was curious to know if it still benefited anyone.
I was surprised to see how many people voted to keep this challenge alive and I'm so thankful you're still up for discovering/trying new genres with me!
I know, I know. The October challenge card didn't go up in time and laid collecting dust in one of my file folders. I've posted it here if you want to check it out but I don't really change much for the October genres because it's the best time of the year to read spooky books! So if you read a murder mystery/horror book this month, you already unknowingly succeeded in the challenge. *high five!*
I also have the November card ready so without further ado, your genres are…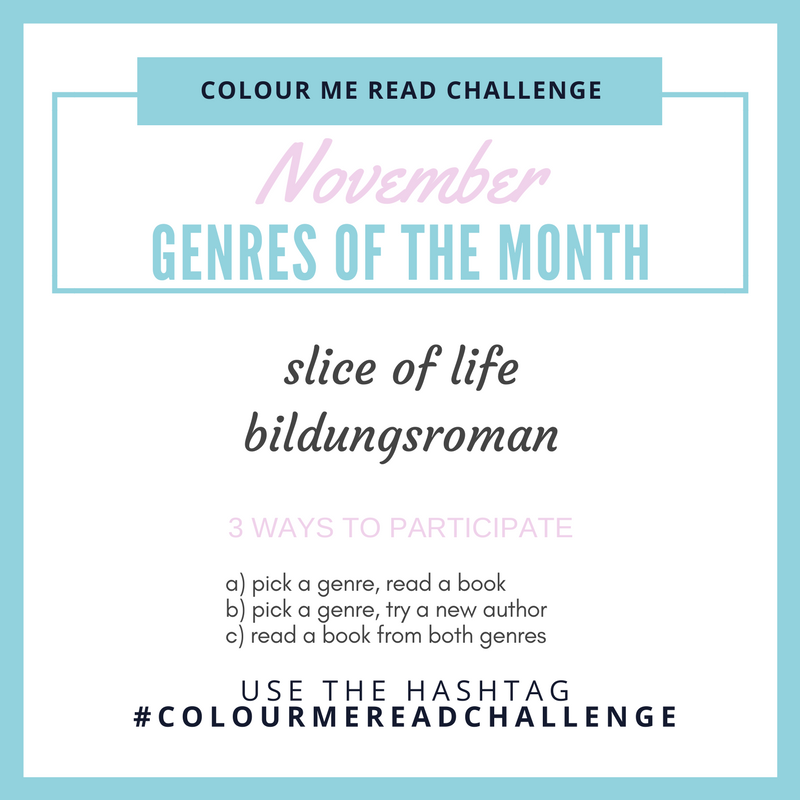 Slice of what roman?! That's what I thought too! These genres sound fairly new to me but I was surprised to learn I've actually read books from these categories.
Slice of Life
This genre of fiction refers to stories focusing on a character's life and may have little plot progress, conflict, or definite ending. Some books in this genre have been written by John Green, Rainbow Rowell, and Jojo Moyes. Here's a handy list from Goodreads of popular slice of life books.
Bildungsroman
Books in this genre are better known as coming-of-age stories. This genre is known for focusing on the psychological and moral growth of a protagonist from youth to adulthood. To Kill a Mockingbird, Jane Eyre, and The Perks of Being a Wallflower are some well known books from this genre. Goodreads also has a list of popular Bildungsroman books! If you ask me, I'd say the Farseer trilogy is a fantastic coming-of-age series but maybe telling you to read 3 books in one month is a little ambitious. Juuust a little.
---
I can definitely see some books falling into both of these genres. For myself, I might read either The Storied Life of A.J. Fikry for Slice of Life or The Curious Incident of the Dog in the Night-Time for Bildungsroman.
What will you be reading?