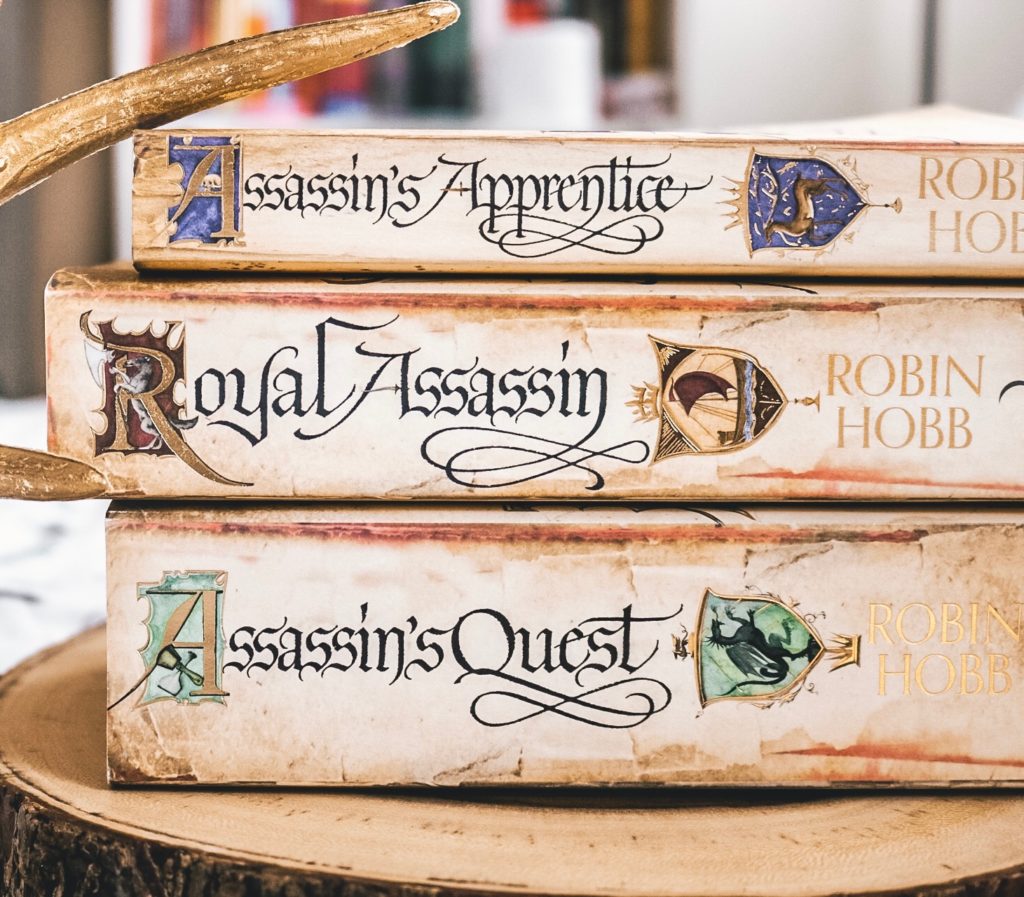 Hey, reader!
If you're reading this, you've probably heard of Robin Hobb's Farseer trilogy and you either love it or you're curious enough to try it. It's too late for me because this series (and the ones after it) already have me in their viciously amazing clutches BUT we can't always like the same things so maybe this spoiler-free series review will help you decide.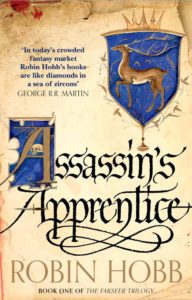 The first book in the trilogy is Assassin's Apprentice and it's about FitzChivalry Farseer, the illegitimate son of a prince, who's taken in by his grandfather to be trained as the assassin of the royal family. We follow Fitz's life as a boy and watch him grow up in the middle of court intrigue, politics, and schemes while dealing with being an outcast by day and learning about poisons and killing by night. Fitz is 6 years old when he comes to the castle and he's 15 years old when the book ends.
Assassin's Apprentice is an accounting of Fitz's childhood written by Fitz as an adult. The next two books are written in the same fashion and how you feel about the first person POV may affect how you view Fitz as a character. The great thing about this perspective is that we experience the world as Fitz does. We see what he sees, smell what he smells, and feel what he feels (you get the point). The downside to that is we're limited to what he knows. As a reader, we do have the advantage of seeing more than he does because each chapter begins with little prologues covering a portion of history, interesting facts, or bits of information written by another character looking back on certain events. I will say that Hobb writes in first person like no other though and if anyone can pull off a series with this POV, it's her.
This series is also full of complex and flawed characters. Hobb's characters have such distinct voices that it's easy to feel each one is the protagonist of a story we're just not privy to. It's hard not to care about them because they're so fleshed out and I'm convinced they actually exist in a different universe (I sound crazy, but seriously). One of the things I love about this series is how you age with the characters. You're given the time to know and understand them and you live their lives with them.
Hobb's worldbuilding also grows with each instalment of the series – the more you read, the more places you visit. She covers cultural norms, traditions, and belief systems that allow you to immerse yourself in the Six Duchies. A fictional world is only as good as how believable you make it. I often recommend these books to people who don't read much fantasy because it makes sense. When you pair Hobb's ability to craft layer upon layer of her world's economy and geography, with how well she captures human nature, you're given a lot you can relate to.
Hobb also creates two magic systems that are more plausible than most. The Skill is a telepathy-based magic that is addictive in nature. It can influence a person's thoughts, actions, and emotions without them knowing and it can also make them see things that aren't there. However, the more someone uses the Skill, the more they lose themselves in it. The Skill is specific to descendents of the Farseer line and Fitz, coming from this family, possesses a natural talent for it. The Wit, on the other hand, is a magic that allows telepathic communication with animals. People with this magic are able to bond with an animal and can enhance specific senses depending on the creature they're bonded to. Fitz also has this ability. Hobb showcases her talent in writing about non-human characters with this magic system so if you're an animal lover, this series is for you.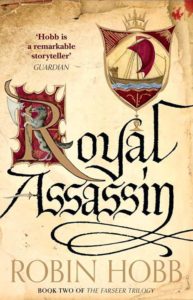 Royal Assassin picks up right where Assassin Apprentice ends. A big part of this book will feel like a coming-of-age story because Fitz is now a teenager. At this point, Fitz has been an assassin for a few years and he's starting to see what it truly means to be sworn to a king. His loyalty is tested in areas of familial ties, love, and friendship.
Secondary characters also play a bigger role in this book and I love seeing how each of them affect Fitz and his choices.You might also come to love many of them because they come. to. life. A new character (one of my very favourites!) is introduced in this book and they are definitely responsible for how much I enjoyed this instalment.
Romantic interests and impulsive decisions rear their heads in this one and if you've never made impulsive decisions at the sage age of 15, you're lying. I personally wasn't the biggest fan of the romance but it's central to questions Fitz will have to face. He's presented with choices that could be monumental for his life and he's torn between what he wants for himself and what he's sworn to do.
Royal Assassin was also a great platform for the antagonist of this series. Hobb once again shows how well she can write a character because you will hate them so much. (Or love them, if you're into that kind of thing) The plot thickens, as the saying goes, and with it come betrayals and unexpected turns.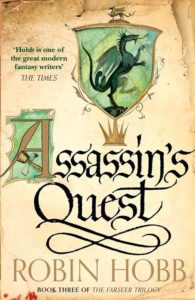 Assassin's Quest is the biggest book in the trilogy, coming at a whopping 800+ pages. A majority of fans will admit to this being their least favourite book and a big part of that stems from its length and pacing. It's a book that could be 200 pages shorter but it also stays true to Hobb's style of writing. Hobb weaves in many details and connections to the real world. If a character is going on a quest from one place to another with many, many miles in between, you will live and feel the gravity of that journey with the character. Many readers don't have the patience for that. If you love fast-paced and action-packed books, Hobb may not be for you. If you love a good slow burn with characters you come to care about, in a place that feels real and fantastic at the same time, Hobb is your woman.
A lot happens in this book. There is much that can be said for many of the characters when we look back on when we first met them to how they are in Assassin's Quest. Hobb is brilliant with her characterization and if you're the type of reader who'll read anything as long as the characters are written well, I see a lot of Hobb in your future.
Everything Hobb introduces in Assassin's Apprentice is further explored in this book. From places beyond the Six Duchies, to more abilities of the Skill and Wit, and revelations tapping into what else could be in store, we get them all.
The Farseer trilogy is a solid trilogy on its own. It has many things a reader could want in a series and finishes with an open ending Hobb could get back to. (And she did, by the way!) I could go on and on about how much I love her but there's only one way to find out if you will! 😉
In some ways, this trilogy only shows you the tip of the iceberg. It might be intimidating to know that Hobb wrote 13 more books in this universe but trust me, you'd wish there was more.
Was there anything I mentioned that made you curious about her books? I'd love to know if this post encourages you to pick up the series in any way. The HobbSquad is also hosting a readalong of Hobb's books on Instagram so feel free to stop by and say hello!