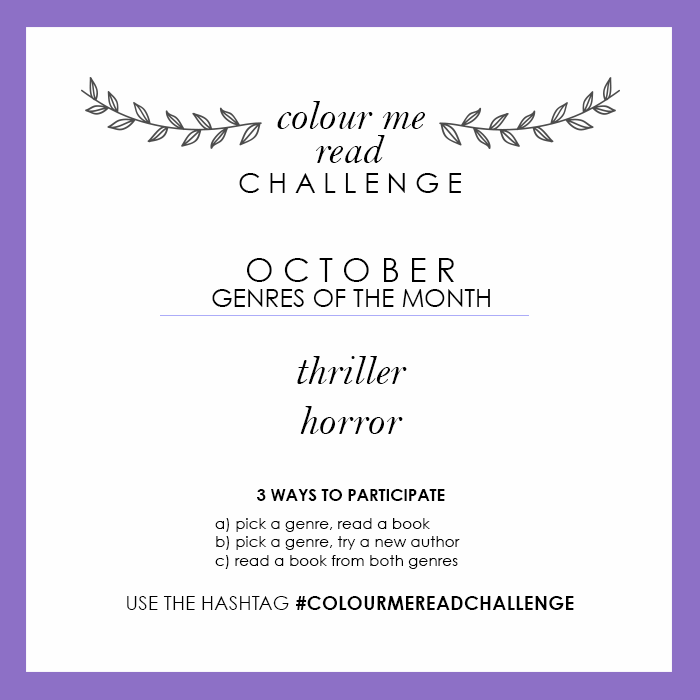 Genres:
Thriller
A genre of fiction that is well known for giving readers 'heightened feelings of suspense, excitement, surprise, anticipation and anxiety'. According to Wikipedia, 'thrillers generally keep the audience on the "edge of their seats" as the plot builds towards a climax. The cover-up of important information from the viewer is a common element. Literary devices such as red herrings, plot twists, and cliffhangers are used extensively. A thriller is usually a villain-driven plot, whereby he or she presents obstacles that the protagonist must overcome.'
Horror
Wikipedia also summarizes this genre quite nicely: 'a genre of fiction which is intended to, or has the capacity to frighten, scare, disgust, or startle readers by inducing feelings of horror and terror.'
I have to say this is probably the hardest challenge for me yet! I'm the type of person who can't bring myself to watch suspenseful/scary movies, and only managed to watch Stranger Things because I had company. 🙈 For this challenge I'm going to take baby steps and tackle a Thriller! I've had The Widow by Fiona Barton for some months now so I'll be reading that. Let's see if I can gather enough courage to read a Horror book. Any Horror fans want to recommend a good 'starter' for a scaredy cat like me? 😆 What do you think you'll be reading for this challenge?
If this is your first time learning about this reading challenge, you can read my post here to find out what it's all about! 😁