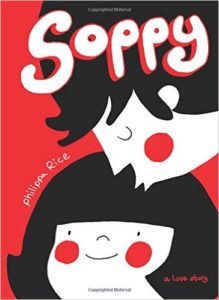 Title: Soppy: A Love Story
Author: Philippa Rice
Genres: Graphic Novels, Romance
Pages: 108
Rating: ★★★★★
Synopsis:
True love isn't always about the big romantic gestures.
Sometimes it's about sympathizing with someone whose tea has gone cold or reading together and sharing a quilt. When two people move in together, it soon becomes apparent that the little things mean an awful lot. The throwaway moments in life become meaningful when you spend them in the company of someone you love.
SOPPY is Philippa Rice's collection of comics and illustrations based on real-life moments with her boyfriend. From grocery shopping to silly arguments and snuggling in front of the television, SOPPY captures the universal experience of sharing a life together, and celebrates the beauty of finding romance all around us.
My Thoughts:
It's so simple, but so beautiful and endearing. I would pick Soppy over many romance books published to date. It isn't cheesy or cringe-worthy and the best part about it is it's real. An adorable graphic novel about a young couple and their experiences moving in together. From silly banter about who should make tea to reading and cooking together, Soppy captures love without needing to say it.